Six golfers, coach from New Mexico college killed in crash
The Texas Department of Safety said a pickup truck crossed the center line of a highway and collided with the vehicle carrying members of the school's golf teams, returning from a tournament in Midland, Texas.



Emergency responders work the scene of a fatal crash late Tuesday, March 15, 2022 in Andrews County, Texas. Photo by NewsWest 9 KWES-TV /Associated Press
Two Canadian members of a New Mexico college's men's and women's golf teams were hospitalized with serious injuries following a head-on collision in West Texas on Tuesday that claimed the lives of six teammates and a coach, the school and local media said.
The crash occurred when a pickup truck slammed into a passenger van owned by University of the Southwest, NBC affiliate KWES-TV reported.
The pickup truck's driver and passenger also died in the crash, which occurred in Andrews County, Texas. It is not known what caused the truck to veer into the other vehicle, the local TV station reported.
The two Canadians hospitalized are Dayton Price, 19, from Mississauga, Ont., and Hayden Underhill, 20, of Amherstview, Ont., the Texas Department of Public Safety said on Wednesday, according to the Midland Reporter-Telegram.
A GoFundMe fundraiser started by Darren Price, Dayton's father, said the teen golfer had third-degree burns to his body.
Article content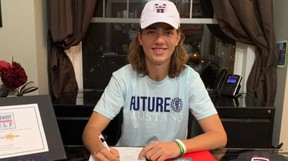 USW, a private Christian university in Hobbs, N.M., said its van was carrying nine people, seven of whom died, and said two others are in critical condition at a Texas hospital.
The Texas Department of Public Safety named the students killed in the crash: Maurico Sanchez, 19, of Mexico; Travis Garcia, 19, of Pleasanton, Texas; Jackson Zinn, 22, of Westminster, Colo.; Karissa Raines, 21, of Fort Stockton, Texas; Laci Stone, 18, of Nocona, Texas; Tiago Sousa, 18, of Portugal and head coach Tyler James, 26, of Hobbs, N.M.
The college said the van was carrying members and the coach of the school's men's and women's golf teams back to campus from a tournament in Midland, Texas.
"The USW campus community is shocked and saddened today as we mourn the loss of members of our university family," USW said in a statement.
Article content
USW coach James was the driver of the university van, according to Midland College, the Texas school that was hosting 11 schools for a golf tournament over two days. The second day of play was cancelled.
James was in his first season as head coach of USW's golf program, his school bio said.
"This is a devastating loss to that school, and words cannot express how deeply hurt we feel for their loss," Midland College President Steve Thomas said in a statement, and he ordered the school's flag to fly at half-staff through Friday to honour the USW teams.