Six passengers fined over party flight from Montreal to Cancun
Images from the flight showed passengers not wearing masks, dancing in the aircraft's aisles, vaping, drinking vodka from a full-sized bottle and taking selfies.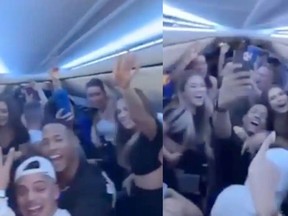 An investigation was prompted when media reports were circulating of passengers behaving inappropriately on a Sunwing Airlines flight from Montreal to Cancun, Mexico. INSTAGRAM
Transport Canada says six people have been fined over a rowdy Montreal flight to Cancun, Mexico, that sparked international headlines and outrage after video emerged of passengers partying and appearing to flout public health rules.
Images from the Dec. 30 Sunwing Airlines flight showed passengers not wearing face masks, ignoring social distancing rules and dancing in the aircraft's aisles and passenger seats. Other images showed some passengers vaping, drinking vodka from a full-sized bottle and taking selfies.
In a statement published Tuesday, Transport Minister Omar Alghabra announced his department "has issued a series of penalties to passengers who were not fully vaccinated when they boarded their flight. To date, six passengers have received penalties, which could reach a maximum of $5,000 each."
The investigation into "unacceptable behaviour" on the flight continues and more penalties are expected to be issued "in the coming days and weeks," Alghabra said.
Article content
The flight carried 154 passengers, some of whom were Quebec social media influencers and reality-show personalities.
Transport Canada has since Jan. 4 been conducting an investigation "to determine whether the Aeronautics Act, regulations or requirements pertaining to aviation safety and security were contravened during that flight," the statement said.
"Certain behaviours reported in connection with the flight, are unacceptable and will not be tolerated," Alghabra said. "This is why Transport Canada took immediate action. Aviation rules must be respected by everyone, for the sake of everyone's safety. Transport Canada will continue to investigate and issue all necessary penalties."
Under federal rules, all passengers must be fully vaccinated to board a flight departing from Canada.
Article content
Passengers are also subject to all civil aviation regulations and requirements, Transport Canada said. A passenger can receive more than one penalty if they have contravened more than one rule.
After images of the flight went viral, Prime Minister Justin Trudeau called the passengers' conduct irresponsible and a "slap in the face" to everyone who has been following public health restrictions. He referred to the passengers as "idiots" and "barbarians."
"Like all Canadians who've seen the videos, I'm extremely frustrated," Trudeau said.
In January, James William Awad, the organizer of the flight, said he was considering suing Sunwing Airlines for "breach of contract" after it refused to fly his group home.
All our coronavirus-related news can be found at montrealgazette.com/tag/coronavirus.
For information on vaccines in Quebec, tap here.
Sign up for our email newsletter dedicated to local COVID-19 coverage at montrealgazette.com/coronavirusnews.
Help support our local journalism by subscribing to the Montreal Gazette.