Stop taking selfies in Ontario's canola fields: OPP
"If you enter a field uninvited, it is trespassing"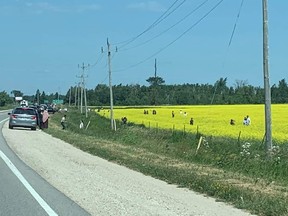 People take photos in a canola field in Ontario. Photo by @OPP_CR /Twitter
Ontario Province Police are warning people to stop taking selfies in canola fields, as appealing as the yellow colour now in peak bloom may be.
Twitter users replied to the OPP tweets both in favour and against selfie-taking — with the majority being against.
"How about you let them come into your yard and cause damage to an asset of yours?" one user tweeted.
"Maybe let them walk on the hood of your car to get that perfect picture. Maybe spray paint your siding for a photo backdrop."