Syphilis, the centuries-old sexually transmitted scourge, is surging in Canada
Rates of syphilis had already been climbing in Canada when the pandemic struck. COVID made things worse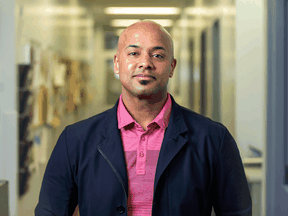 Dr. Jared Bullard, a pediatric infectious disease specialist at the University of Manitoba, says that cases of congenital syphilis are likely being underreported in Canada. Photo by Nik Thavisone
Dr. Zain Chagla used to see maybe one case of syphilis per month as a consultant to sexual health clinics in Hamilton, Ont.
About six years later, and the McMaster University infectious diseases specialist is now seeing two to three referrals for syphilis a week, "and I only see the complicated ones." Complex cases involving meningitis, inflammation of the membranes around the brain and spinal cord, stroke-like syndromes and vision loss. "Syphilis can affect any organ, not just the genitals, as is traditionally thought."
When Chagla recently wondered on Twitter, "is anyone else seeing a lot of syphilis," the answer was a succinct "yes." The centuries-old sexually transmitted scourge "is out of control in Saskatchewan right now," one colleague responded, while another reported Thunder Bay is seeing more cases now than the last several years combined.
Article content
In January, doctors in Montreal were advised by public health bulletin to test every pregnant woman in their care for syphilis, because of a small but worrying rise in congenital syphilis, where treponema pallidum, the bacterium that causes the infection, is spread from mother to fetus before birth. If left untreated, syphilis in pregnancy can lead to miscarriage, stillbirth or infant death soon after birth. Babies born with syphilis can have deformed bones, enlarged liver and spleen and nerve and brain problems. If caught in time, penicillin can prevent transmission of syphilis from mother to baby.
Canada used to see fewer than 10 cases of congenital syphilis a year. In 2013, a single case was reported. Last June, a national congenital syphilis surveillance study began asking pediatricians and other doctors who see children to report each month whether they had seen a confirmed or suspected case in the preceding month. So far, 101 cases have been reported. The number is likely an underestimate of the true burden, said co-principal investigator Dr. Jared Bullard, section head of pediatric infectious diseases at the University of Manitoba.
Article content
Babies born with congenital syphilis have so far been concentrated in the Prairie provinces, half in Alberta, a quarter or so in Saskatchewan. But rates in Manitoba have increased dramatically, B.C. is "on the up slope side of things" and doctors in eastern Canada, including the Maritime provinces are now reporting the occasional case, "which is new," Bullard said. "About five, 10 years ago, I don't think they were seeing anything."
Rates of syphilis had already been climbing in Canada when the pandemic struck. COVID made things worse. Public health units pivoted to COVID, "which was important, but there is an opportunity cost," Chagla said. Programs offering access to STI testing, contact tracing and treatment slowed, or ground to a halt. Much of the access to clinics outside of primary care shut down, Chagla said. Doctor visits turned virtual; it becomes tougher to bring up delicate topics through a screen. Syphilis is also "the great mimicker," Chagla said. While it's easily cured with penicillin, it can often look like something else. "Even those who got care may have been misdiagnosed with other issues, especially atypical groups like the elderly," he said.