Terry Glavin: Trudeau combats Russia's invasion of Ukraine with Operation Photo Opportunity
Opinion: The PM and his war council seek to reassure Ukrainians that yes, despite appearances, Canada is on their side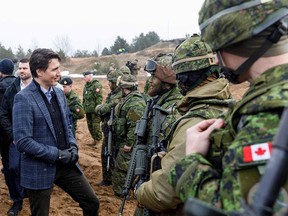 Prime Minister Justin Trudeau talks with soldiers during a visit to the Adazi military base, northeast of Riga, Latvia, on March 8, 2022. Photo by TOMS NORDE / AFP via Getty Images
A clearer picture of Canada's war-fighting strategy emerged this week during the dramatic eastward advance of Prime Minister Justin Trudeau's Operation Photo Opportunity. In the rumble of the hit-and-run media-availability event across Europe, word came at last from the tip of the spear aimed at Russian strongman Vladimir Putin, in Latvia.
What had been hinted at only two days earlier at a forward-operating press briefing by Defence Minister Anita Anand, it can now be revealed, is true. Canada will be fortifying Ukraine's gallant resistance to invading Russian forces with little "precision cameras" mounted on the Turkish-made Bayraktar TB2 combat drones the Ukrainians have been putting to good use destroying Russian tanks and artillery.
During his review of the troops mobilized in Latvia under Operation Reassurance, the prime minister further revealed that the Canadian-led NATO deployment there, which Trudeau actually inherited from his ghastly Conservative predecessor Stephen Harper, would not be ordered to retreat. The deployment will stay on in the Baltics, and better than that, its troop strength of up to 915 soldiers, sailors and air force personnel will be soon joined by another 460 Canadian Forces troops.
Article content
Word came at last from the tip of the spear
It's not clear whether these reinforcements will include the 260 military trainers ordered to run away from Ukraine, where the actual war is going on, two weeks before the Russian invasion began. They were last seen in Poland. To be fair, the Americans and the British pulled their troops out of Ukraine at around the same time.
So one really shouldn't submit to the temptation of snark. After all, Canada has sent the Ukrainian resistance a generous assortment of non-lethal supplies like night-vision goggles and bullet proof vests along with 7,500 hand grenades, 4,500 M72 rocket launchers, and other such kit that make loud noises and kills invaders. And that's all to the good.
We're also sending along $1 million so that the Ukrainians can buy high-resolution RADARSAT-2 satellite imagery gear that will give them an edge in tracking Russian forces on the ground. This is only fitting, since the Trudeau government scuttled a commitment to provide RADARSAT-2 data to Ukraine in 2016, only months after coming to power, when Stéphane Dion was foreign affairs minister. The Ukrainians needed the data desperately, following Putin's annexation of Crimea and occupation of Luhansk and Donetsk two years earlier. Awkward.
Article content
During his stopover in London, where he was pleased to meet Her Majesty Queen Elizabeth, Trudeau and British Prime Minister Boris Johnson announced that Canada and the United Kingdom would rededicate themselves to the Group of Seven's efforts to counter Russian propaganda and disinformation. "We will continue to use the G7 Rapid Response Mechanism for joint assessment and collective action, including ramping up our collective engagement with media, tech platforms and civil society to tackle Russia's unprecedented information war," according to the Johnson-Trudeau joint statement.