The Bank of Canada will almost certainly take the steeper path to higher rates next month
Kevin Carmichael: The signs were there even before Friday's game-changing speech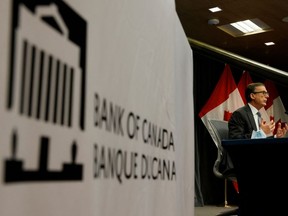 A 50-basis-point hike by Governor Tiff Macklem and the Bank of Canada is now seen as more likely. Photo by REUTERS/Blair Gable/File Photo
The Bank of Canada will almost certainly take the steeper path to higher interest rates when its leaders meet next month to reset policy.
Many observers would have come to that conclusion before deputy governor Sharon Kozicki's game-changing speech on March 25.
Her boss, Tiff Macklem, said after he and his deputies raised the benchmark rate a quarter point on March 2 that the pace of future increases would be guided by data. The data over the past few weeks show the economy is considerably stronger than the central bank expected at the start of the year.
Article content
The jobless rate was 5.5 per cent in February, near a modern low, and the consumer price index averaged year-over-year increases of 5.4 per cent over the first two months of the year, compared with the Bank of Canada's January forecast of 5.1 per cent in the first quarter. That outlook preceded Russia's invasion of Ukraine, which has destabilized the supply of oil, natural gas, agricultural staples and metals. "The result is inflation in the near term that is expected to be higher than we projected in January," Kozicki said.
Article content
Higher interest rates won't guarantee rain on the Prairies this summer, and Macklem has no influence over international oil prices. Bay Street economist David Rosenberg's argument that central banks are about to trigger a recession is a good one. Alas, if you're Macklem, and your primary job is keeping year-over-year increases in the consumer price index at about two per cent, the most recent set of data leave you with only one choice: reel faster.
Still, many of the people who get paid to predict where interest rates are headed were still hedging their bets at the start of last week, perhaps because Macklem on March 3 had said he and his lieutenants "fully intend to tighten policy in a deliberate and careful way, being mindful of the impacts and monitoring the effects closely."