The Scheherazade superyacht comes with 1,001 tales of mystery
Many whisper that it is owned by Vladimir Putin, but not even super-sleuths have been able to verify that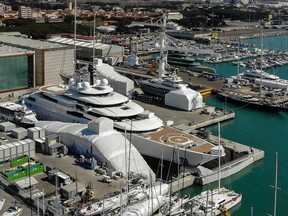 A view shows the Scheherazade in a repair dock at the Tuscan port of Marina di Carrara on March 22, 2022. Photo by FEDERICO SCOPPA/AFP via Getty Images
Reports claim it is the world's most expensive yacht whose owner has not been publicly identified.
An anti-corruption unit working for Alexei Navalny, the jailed opposition leader, says the $825-million Scheherazade — launched in 2020 under the Cayman Islands flag, with ownership registered in the Marshall Islands — is secretly owned by Russia's president.
The yacht has been in for maintenance and repairs since October 2020 in Porta di Carrara, 55 kilometres north of Pisa, Italy, where federal authorities are now under pressure to seize it and investigate any links to Vladimir Putin.
In a speech to the Italian parliament Tuesday, Ukrainian President Volodymyr Zelenskyy urged the government to seize the vessel. "Don't be a resort for murderers," he urged. "Block all their real estate, accounts and yachts … seize their accounts, their yachts, from Scheherezade to the smallest one."
Article content
This is a video by the Navalny-founded anti-corruption FBK Investigation Department explaining their research, with English sub-titles.
Article content
"One thing really stands out," notes a tweet from Maria Pevchick. The head of FBK has found some striking details — not via the ship's ownership records but by who manages it and pays its bills.
The list of employees from the captain to security deckhands "almost entirely consists of Russians. Russian passports are not the only thing they have in common. They also work for the FSO, the Federal Protective Service of the Russian Federation," Pevchick says.