Toronto erotic model accused in sex-tape extortion plot, awaits extradition to U.S.
She allegedly attempted to extort $2 million from a well-known athlete in exchange for not publicizing a video of his cocaine-fuelled romp with sex workers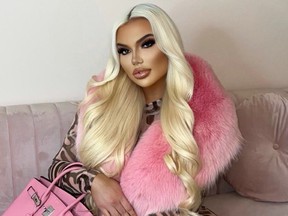 Samantha Curow, 31, or "realstacidoll" as she is know to her 1.6 million Instagram followers, poses for a photo. Photo by @realstacidoll/Instagram
"There is a whole different story to be told," Ducharme said.
He said Curow will not appeal in Canadian courts and will wait to tell her version of events at a trial.
The Ontario Court of Appeal declined to release Curow on bail while she awaits the Minister of Justice's decision on surrender to U.S. authorities.
According to documents filed in the extradition case, the athlete hired a female sex worker that he met online to come to his apartment one evening in February 2018. An hour later, a second woman arrived. The athlete disrobed, consumed alcohol and cocaine, watched pornography and requested the women "penetrate him with various objects not typically used for that purpose."
The athlete was aware some of the encounter was filmed. At the end of the night he paid each woman US$2,000 but they wanted more. When he refused, they took an expensive piece of luggage as "collateral" against additional payments.
Several days later, the athlete began receiving text messages from someone claiming the damaging video would "go away" if he paid compensation. He changed his phone number. The athlete's wife, daughter and former companion also received Instagram messages.
The athlete's lawyer went to the Federal Bureau of Investigation.