Trudeau arrives in Europe to meet with allies on Ukraine response
Trudeau is to meet with the prime ministers of Britain and the Netherlands, as well as with the secretary-general of NATO.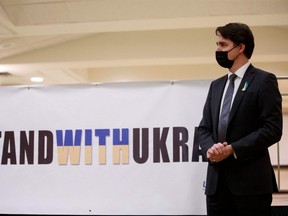 Prime Minister Justin Trudeau attends an event with members of the Ukrainian community in Toronto, Friday, March 4, 2022. Photo by Cole Burston /AFP via Getty Images
LONDON — As Olivia Milton and her husband packed up their four-year-year son up for trips to their Kyiv neighbourhood bomb shelter, they crafted a narrative to explain the flurry of activity to him.
With the Russian war on Ukraine underway, Milton, 33, said they told him there was a "crazy man" who was "kind of sick" who was coming to take their land with his warplanes and tanks.
"Hey mom, you know, I had a dream today," Milton recalled her son later telling her later. "I was dreaming while I was sleeping, and I had a dream that I have a police tank that's protected the city."
Milton reflected on the war in an interview with The Canadian Press from her family's Kyiv apartment a few days before Prime Minister Justin Trudeau arrived in London Sunday night for the start of a four-country Europe tour. It offered a subtle human snapshot of Ukraine's strife as 1.5 million citizens have fled across Europe in an unprecedented refugee crisis.
Article content
Trudeau is planning to meet with several allies to discuss responses to Russia's attack and the humanitarian crisis it has now spawned.
Milton said she and her family were staying put, in part because they were not sure they would actually be able to safely flee Kyiv.
Trudeau arrived in Britain as plans to evacuate civilians from a Ukrainian port city collapsed for the second time.
Residents expected to leave Mariupol during the 10 a.m. to 9 p.m. local ceasefire, Ukrainian military authorities said earlier in the day, but Interior Ministry adviser Anton Gerashchenko later said the planned evacuations were halted because of an ongoing assault by Russian troops.
It is not possible to know the exact number of people killed so far since the Feb. 24 invasion. The United Nations human rights office said 364 civilians have been confirmed killed, but the true number is likely much higher. Russian and Ukrainian officials have not provided information on military causalities.
Article content
The British defence ministry said Sunday in an intelligence update that Russia's tactics in Ukraine were comparable to their previous pummelling of cities in Chechnya in 1999 and Syria in 2016 with airstrikes and artillery, after Russian forces faced unexpected resistance. The intelligence report said the strength of Ukrainian fighters continues to surprise the Russians, and that the bombing of cities, including Kharkiv, Chernihiv and Mariupol represented an effort to break Ukrainian morale.
In a one-hour conversation on Sunday, Turkish President Recep Tayyip Erdogan urged Russian President Vladimir Putin to cease the fighting in an attempt to address humanitarian concerns and try to find a political solution.