Trudeau extends NATO mission, but doesn't commit to more defence spending
NATO asks countries to spend two per cent of their GDP on defence spending. Canada has long failed to meet that target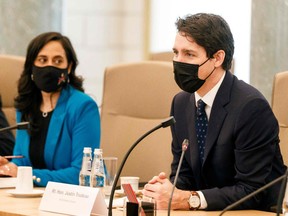 Prime Minister Justin Trudeau (R) speaks as Minister of Defence Anita Anand (L) listens during a meeting with their Latvian counterparts in Riga, Latvia, on March 8, 2022. Photo by TOMS NORDE/AFP via Getty Images
OTTAWA — Prime Minister Justin Trudeau extended Canada's commitment to a mission meant to deter Russia from invading any further into western Europe, but was noncommittal on whether Canada would meet is defence spending target under NATO.
Trudeau met Tuesday with Canadian troops in Latvia as part of Operation Reassurance, a mission designed to show NATO's solidarity and ward off Russian aggression.
Last month, Trudeau announced Canada would send an additional 460 personnel to the mission, including a second navy frigate and artillery. On Tuesday, he announced Canada would be in the mission for the long-term, extending a commitment set to expire next year indefinitely.
Trudeau said the mission is about more than keeping eastern European countries safe.
"The troops here are not only defending Latvia or Eastern Europe, they're defending all NATO allies, including Canada. They're defending our freedom and our security," he said.
Article content
Canada had imposed a string of economic sanctions on Russia since the invasion began and sent millions of dollars in weapons to Ukrainian forces. Trudeau said it made sense for Canada to send weapons from warehouses here to the front lines.
"Those weapons are much more useful right now and in the coming weeks in the hands of Ukrainian soldiers fighting for their lives than they would be in Canadian hands," he said.
He said those weapons would be replaced, but declined to say if Canada is going to increase defence spending to meet NATO targets.
"We continue to invest in the equipment that leads our armed forces to be able to continue to contribute not just in places like here in Latvia, but everywhere around the world where we are called on to do."
Article content
NATO asks countries to spend two per cent of their GDP on defence spending. Canada has long failed to meet that target and currently spends 1.39 per cent according to NATO's most recent figures.
Ukraine is not a NATO member, which means the alliance is not legally obligated to respond to the invasion.
Stoltenberg stressed the alliance is a defensive one and isn't seeking a conflict with Russia. He said Russian President Vladimir Putin had underestimated Ukraine and the world's response to his actions.
He said the additional troops in countries like Estonia and Latvia were about ensuring the war didn't spread beyond Ukraine's borders.
"We must do everything possible to prevent the conflict spreading beyond Ukraine and our presence sends an unmistakable message of unity," he said.