Trudeau near tears hearing stories of Ukrainian refugees in Poland
Trudeau condemned the invasion and was firm in his belief that Putin made a grave mistake when he invaded Ukraine.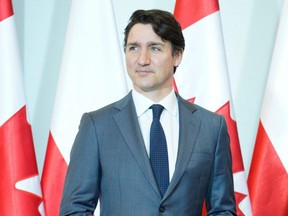 Prime Minister Justin Trudeau poses for a photo prior to talks with his Polish counterpart on the Ukraine-Russia conflict, in Warsaw, Thursday, March 10, 2022. Photo by ALIK KEPLICZ /AFP via Getty Images
As Kate Kliuchnyk and her mother, Yuliia, pondered the next chapter of their lives in the crisp sunshine outside Warsaw's Central Station on Thursday morning, a brief smile flashed across their faces.
"We really hope that everything will be good, that we will come home," said Kate, 19, who fled her home in Kharkiv, Ukraine's second largest city, with two younger sisters, her mother and Marley, their grey and white husky.
Speaking in lightly accented English, she said it was like being on a "mini trip. Maybe it's a good opportunity to see Europe, to see other countries."
Her mother said it was a good idea to stay positive. "In other way, we'll be very sad. And that won't change nothing."
As the women embarked on a new path in a new land — without Kate's father, who stayed behind — Prime Minister Justin Trudeau visited Poland's leaders and also managed to cross paths with U.S. Vice-President Kamala Harris.
Article content
Duda and Trudeau lambasted Russian President Vladimir Putin for an invasion that has unleashed the worst carnage on Europe since the Second World War, killing at least 500 civilians if not more, according to United Nations estimates.
On Wednesday, an airstrike on a maternity hospital in the port city of Mariupol injured pregnant women and left children buried in the rubble.
Duda said Poland will help collect evidence of war crimes so Putin and other Russians can face a legal reckoning before the International Criminal Court.
"This is genocide," he said in Polish.
"If someone bombs maternity hospitals full of pregnant women, if someone shells residential areas where there are no military facilities, these are war crimes and this is genocide."
Article content
Trudeau condemned the invasion and was firm in his belief that Putin made a grave mistake when he invaded Ukraine.
"He's going to lose this war because the ferocity and strength and resolve of the Ukrainian people defending their territory is inspiring us all."
It would appear that Yuliia Kliuchnyk's husband may be one of them.
"Men are not allowed to leave the country at the moment," she said.
Kate said she talks by phone with her father every day.
Duda said Canada was the only country that offered help to Poland to manage a refugee crisis before Russia launched its "barbaric, unprovoked" invasion of Ukraine.
He described speaking on the phone with Trudeau on Feb. 13, when he said the prime minister told him if Russia did invade, Canada would support Poland if needed.