Trudeau says Putin will lose the war in Ukraine
Later Thursday, Trudeau was to visit a temporary shelter for refugees as part of his day in Warsaw. He is also expected to meet with U.S. Vice-President Kamala Harris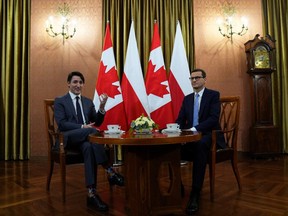 Canadian Prime Minister Justin Trudeau and Polish Prime Minister Mateusz Morawiecki meet, amid Russia's invasion of Ukraine, in Warsaw, Poland, March 10, 2022. Photo by Aleksandra Szmigiel/REUTERS
OTTAWA – As he finished a tour of European capitals, Prime Minister Justin Trudeau said he is confident Russian President Vladimir Putin will fail in his horrific invasion of Ukraine.
"Putin has made a terrible mistake and he's going to lose this war. He's going to lose this war because the ferocity and strength and resolve of the Ukrainian people defending their territory is inspiring us all," he said.
Trudeau spoke to reporters Thursday alongside Polish President Andrzej Duda, as the prime minister ended a trip that has taken him to London, Berlin, Latvia and Poland. He was also set to meet Thursday with U.S. Vice President Kamala Harris, who was also in Poland.
Ukrainian cities have been heavily damaged by continued shelling from Russian forces, including recent reports that a maternity hospital in Mariupol was hit by a Russian airstrike.
Trudeau said the recent attacks on cities are horrific and there will be increases in sanctions and consequences for Russian leadership.
Article content
"Putin's callous disregard for human life is absolutely unacceptable. It is very clear that he has made the choice to specifically target civilians now," Trudeau said. "Putin needs to know that the consequences for his actions already will be severe, and further escalations by him, further targeting of civilians, further use of problematic ways to kill civilians is going to be met with the severest of responses."
Canada has sanctioned Russian banks and dozens of individuals around Putin. Trudeau said across his trip he found widespread agreement on the need to ensure the Russian regime faced escalating sanctions if they don't turn back and stop the invasion of Ukraine.
"We are constantly talking about how to increase, how to stiffen, and how to bring more sanctions against more of Vladimir Putin's, friends and supporters," he said.
Article content
Trudeau announced the government would increase to $30 million, from $10 million initially offered, the amount of matching funds it would provide to the Red Cross special appeal for Ukraine.
He also announced that $50 million would be made available now for organizations like the World Food Program and Save the Children as part of a broader package of $100 million previously announced for humanitarian assistance.
He also announced $117 million to be spent on processing applications from Ukrainian refugees to expedite processing of applications for those seeking to move to Canada.
The government has not allowed visa-free travel to Canada as several opposition parties have called for. Trudeau said many Ukrainians will want to come to Canada only temporarily, but the government's current program will allow them to work while they are here.