Ukraine says Russia bombed children's hospital in besieged Mariupol
'People, children are under the wreckage,' President Zelinskyy wrote on Twitter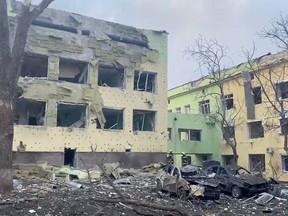 Mariupol maternity hospital destroyed in airstrike. Photo by Mariupol City Council
Ukraine accused Russia on Wednesday of bombing a children's hospital in the besieged port of Mariupol during an agreed ceasefire to enable civilians trapped in the city to escape.
Russia had said it would hold fire to let thousands of civilians flee Mariupol and other besieged cities on Wednesday. But the city council said the hospital had been hit several times by an air strike.
"The destruction is colossal," it said in an online post.
President Volodymyr Zelenskyy called it an "atrocity."
"Direct strike of Russian troops at the maternity hospital. People, children are under the wreckage," he said on Twitter.
Article content
The Ukrainian Foreign Ministry posted video footage of what it said was the hospital showing holes where windows should have been in a three-story building. Huge piles of smoldering rubble littered the scene.
The Donetsk region's governor said 17 people were wounded, including women in labor. The reports could not immediately be verified.
Earlier Ukraine's Foreign Minister Dmytro Kuleba said Russia had broken the ceasefire around the southern port, which lies between Russian-backed separatist areas of eastern Ukraine and Crimea, annexed by Moscow from Ukraine in 2014.
Article content
"Russia continues holding hostage over 400,000 people in Mariupol, blocks humanitarian aid and evacuation. Indiscriminate shelling continues," he wrote on Twitter. "Almost 3,000 newborn babies lack medicine and food."
Ukraine said at least 1,170 civilians had been killed in Mariupol since the start of the invasion, and 47 were buried in a mass grave on Wednesday. It was not possible to verify the figures.
Russia's defense ministry blamed Ukraine for the failure of the evacuation and said that the situation faced by civilians in Mariupol had reached a "catastrophic scale."
A senior U.S. defense official said there were indications Russia's military was using so-called "dumb" bombs that are not precision-guided and that Washington had observed "increasing damage to civilian infrastructure and civilian casualties."