Ukrainian serviceman who told Russian warship 'Go f— yourself' awarded after being taken as prisoner
'I want to say a huge thank you to the Ukrainian people for their support. We feel it very much, it inspires us'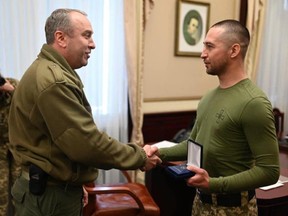 Roman Gribov, known for telling a Russian warship to "Go f— yourself" received an award on Tuesday, after returning to Ukraine in a prisoner exchange with Russia. Photo by @nexta_tv/Twitter
A Ukrainian serviceman who said "Go f— youself!" to a Russian warship invading an island in the Black Sea that he was protecting has now returned to his home country and received a medal on Tuesday.
Roman Gribov was awarded "For Merit to Cherkasy," according to The Odessa Journal. Cherkasy is a central region in Ukraine along the Dnieper River.
Article content
In late February, at the start of the war, Zmiiny Island, also known as Snake Island, received communications from a Russian warship telling the Ukrainian guards to surrender "to avoid bloodshed and unnecessary deaths," the Washington Post reported.
Gribov responded: "Russian warship, go f— yourself!"
At the time it was believed that 13 of them had been killed in the attack on Snake Island. Ukrainian President Volodymyr Zelenskyy called them "Heroes of Ukraine."
Russian state media later said they were taken as prisoners.
Gribov was recently returned to Ukraine in a prisoner exchange announced on March 24. Ukrainian Deputy Prime Minister Iryna Vereshchuk said in a Telegram post that it was "the first full-fledged exchange of prisoners of war."