'We. Will. Not. Forgive,' Zelenskyy says in impassioned Forgiveness Sunday speech
Here is the translated full transcript of his emotional speech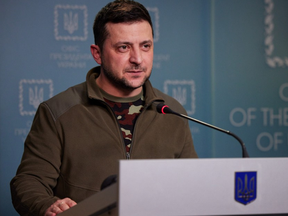 President Volodymyr Zelenskyy: "Ukrainians had never dreamt of killing." Photo by Office of the President of Ukraine
Ukrainian President Volodymyr Zelenskyy has gained renown for his tough speeches calling for military help and sanctions from Western nations as Russia bombards his country. In an emotional video on Sunday, however, his tone shifted.
He offered a sliver of hope — dangling the possibility of a peaceful life in Ukraine after its "victory" in the violent and bloody conflict that has entered its 12th day.
Zelenskyy, in an almost lyrical speech, said Ukraine has been thrust into suffering "that no other European nation has seen in 80 years."
Here is the translated full text of his speech:
"Ukrainians!
Article content
We will not forgive the destroyed houses. We will not forgive the missile that our air defence shot down over Okhmatdyt today. And more than 500 other such missiles that hit our land. All over Ukraine. Hit our people and children.
We will not forgive the shooting of unarmed people. Destruction of our infrastructure.
We. Will. Not. Forgive. Hundreds and hundreds of victims. Thousands and thousands of sufferings. And God will not forgive. Not today. Not tomorrow. Never. And instead of Forgiveness, there will be a Day of Judgment.
I'm sure of it."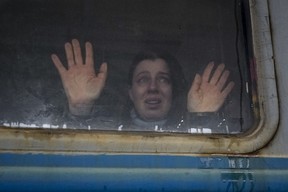 Zelenskyy continued: "It seems everything Russian servicemen have already done is still not enough for them. Not enough ruined destinies. Mutilated lives. They want to kill even more.
Article content
Tomorrow Russia has officially announced the shelling of our territory. Our enterprises. Defence complex. Most were built decades ago. By the Soviet government. Built in cities. And now they are in the middle of an ordinary urban environment. Thousands of people work there. Hundreds of thousands live nearby.
This is murder. Deliberate murder.
And I have not heard a reaction from any world leader today. From any Western politician. Reaction to this announcement. Think about the sense of impunity of the invaders: they announce their planned atrocities. Why?
Because there is no reaction. Because there is silence. Not a word, as if Western leaders have dissolved tonight. For this day. I hope that at least tomorrow you will notice it. React. Say something. We know exactly who prepared this attack. We know exactly how orders will follow the vertical command. We know everything.