Western Canada braces for worst in Canadian Pacific dispute
'We're facing a pretty serious animal health crisis': For ranchers, producers and industries in much of the southern prairies, Canadian Pacific is their only railway option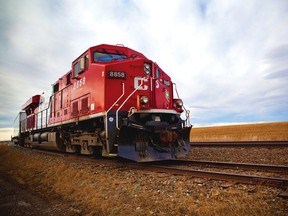 A Canadian Pacific (CPR) locomotive on the prairies.
The effects of a nationwide railway dispute are already hitting western Canada hard.
Even before Canadian Pacific announced it would lock out nearly 3,000 Teamsters Canada Rail Conference (TCRC) engineers, conductors and yard workers at midnight Saturday, American feed shippers began halting shipments north, fearing a work stoppage would strand their cargo once the network stopped operating.
"With the drought we had last year we already had a critical feed shortage, so right now they're relying on somewhere between eight and 10 trains per week bringing up corn and dried distillers' grain from the states to feed the more than million head of cattle in Western Canada," said Foothills MP and Shadow Agriculture Minister John Barlow, whose riding south of Calgary includes some of Canada's oldest and most established cattle ranches.
Article content
"And if we don't have that, we're facing a pretty serious animal health crisis."
For ranchers, producers and industries in much of the southern prairies, Canadian Pacific is their only railway option.
CN, Canada's largest railway in both revenue and network, built their transcontinental line along a more northerly route, with the bulk of branch lines and secondary routes servicing areas south of Saskatoon and Edmonton largely abandoned over the decades.
A strike vote held earlier in March saw 96 per cent of TCRC members voting in favour of a strike, reflecting the frustrating impasse taking root at the bargaining table.
The stalemate continued until Wednesday evening when Canadian Pacific issued a 72-hour lockout notice.
Article content
"For the sake of our employees, our customers, the supply chain we serve and the Canadian economy that is trying to recover from multiple disruptions, we simply cannot prolong for weeks or months the uncertainty associated with a potential labour disruption," Canadian Pacific President and CEO Keith Creel said in a company statement.
"The world has never needed Canada's resources and an efficient transportation system to deliver them more than it does today. Delaying resolution would only make things worse. We take this action with a view to bringing this uncertainty to an end."
Teamsters Canada Rail Conference spokesperson Stéphane Lacroix said negotiations resumed Thursday, but concurred with observations from Canadian Pacific that the two sides remained far apart.