What is NATO and why does the alliance exist?
The North Atlantic Treaty Organization was established in the aftermath of the Second World War. Much has changed since then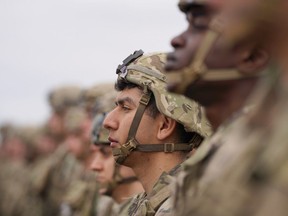 U.S. NATO troops in Romania on March 6, 2022. (Photo by Andreea Campeanu/Getty Images)
With all eyes on the Russian invasion of Ukraine, the North Atlantic Treaty Organization (NATO) has come into the spotlight. NATO has condemned Russia's actions in Ukraine and has taken measures in Europe, notably the first-ever deployment of the NATO Response Force.
Canada is a participant in Operation Reassurance, a mission designed to show NATO's solidarity and ward off any Russian aggression. On a visit to Latvia to meet Canadian troops participating in the mission, Prime Minister Justin Trudeau said the mission is about more than keeping eastern European countries safe.
"The troops here are not only defending Latvia or Eastern Europe, they're defending all NATO allies, including Canada. They're defending our freedom and our security," he said.
While the 30-country alliance has been supplying assistance to Ukraine in the form of money, weapons and sanctions against Russia, it has not deployed troops to Ukraine, because it is not a member of the alliance.
Instead, its forces are at the ready to defend nation members should Russia escalate its aggression and attack alliance countries.
Article content
Putin takes great offence at the NATO buildup on his country's borders. He has opposed NATO's expansion into countries that were once in the sphere of the former Soviet Union. Ukraine was seeking membership in the alliance.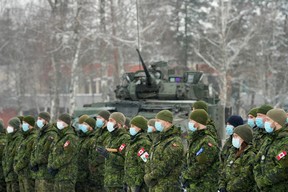 To better understand NATO's actions and position in the Ukraine crisis, we must go back to why it was established in the first place.
Why NATO was formed
NATO was established with the signing of the North Atlantic Treaty on April 4, 1949, in the aftermath of the Second World War. Twelve countries formed the founding members of NATO: Belgium, Canada, Denmark, France, Iceland, Italy, Luxembourg, Netherlands, Norway, Portugal, United Kingdom, and the United States. The treaty represents an international military alliance between members.
Article content
NATO was created to deter the expansion of the Soviet Union and curb any strong nationalist military movements in Europe, as the world saw during the Second World War with the Nazi Party. More generally, NATO's mission was "to secure peace in Europe, to promote cooperation among its members and to guard their freedom."
NATO hoped to accomplish these goals by increasing North America's presence on the European continent. These goals were especially important in the wake of the war, where 36.5 million Europeans died and with the Soviet Union aiding Communist allies to overthrow European governments. The treaty sets out the idea of "collective defence," meaning an attack against one ally is considered as an attack against all allies.