When will the war in Ukraine end? Experts weigh in on possible scenarios
'As long as the Ukrainians have supplies and the Russians don't give up, it could be a sort of stalemate… This will mean that there will be a horrendous cost for Ukrainian civilians'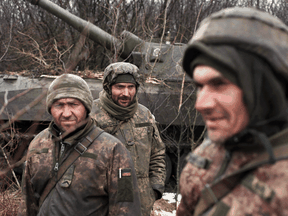 Ukrainian soldiers hold their positions in the Luhansk region on March 2, 2022. Photo by ANATOLII STEPANOV/AFP via Getty Images
As the war in Ukraine enters its second week, questions of when, and how, the conflict will end are doubtless on the minds of people around the world.
There are many scenarios that could play out. Russian President Vladimir Putin could be ousted. Ukraine and Russia could come to a negotiated end of hostilities. Or, the war could drag on in a protracted fashion.
The National Post spoke to experts and ran several scenarios by them to get their opinion on how this war could end.
What would bring the war to an end quickly?
A couple different scenarios could bring this war to an end sooner rather than later.
Article content
There's also the possibility of a negotiated peace that comes expeditiously.
"There have to be negotiations regarding de-escalation before we even talk about a permanent resolution to this conflict," said Dani Belo, assistant professor of international relations at Webster University in St. Louis, Missouri and a fellow at Carleton University's Norman Paterson School of International Affairs. "We've seen a number of these meetings between the Russian delegation and Ukraine's delegation."
While these meetings, as yet, haven't brought about a de-escalation of the conflict, Belo did note there has been some progress, such as an agreement to create humanitarian corridors for civilians to escape the fighting.
Article content
What might a negotiated end of the war look like?
If the war were to end diplomatically, experts tend to agree that the negotiated solution would have to allow Putin to appear like he has had some success.
It is unlikely that Russia will compromise on the red lines they have articulated, said Belo. The main one is the demilitarization of Ukraine and the prevention of it becoming a hub for NATO forces.
Jeff Sahadeo, a professor at the Institute of European, Russian, and Eurasian Studies at Carleton University, said there are a couple areas that could be up for negotiation and compromise.
One might be Russia being OK with Ukraine joining the European Union, so long as they don't seek to join NATO. Another might be that Ukraine has to accept the loss of territory in Donetsk, Luhansk and Crimea, which they have not done.