Zelenskyy begs Canada to help 'close the sky' in address to House of Commons
Zelenskyy thanked Canada for being a steadfast ally and for its provision of weapons and the strong sanctions it has placed on Russia, but he said Canada must do more to keep people safe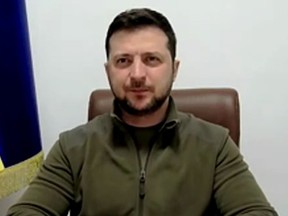 Volodomyr Zelenskyy addresses Canada's House of Commons virtually on Tuesday March 15. Photo by CPAC / YouTube
OTTAWA – Ukraine's President Volodymyr Zelenskyy pleaded for Canadian help to "close the sky" over his country in a rare address to the House of Commons Tuesday, asking parliamentarians to imagine what it would be like if Russian bombs were falling on Canadian cities instead of Ukrainian ones.
Zelenskyy spoke to the House of Commons via videoconference as his country remains under siege from Russian attacks. He asked MPs and Prime Minister Justin Trudeau specifically to imagine what it would be like for Canada to deal with the same siege.
"Justin, can you imagine hearing, your children hearing, all these severe explosions, bombing of airport bombing of the Ottawa airport," Zelenskyy said in Ukrainian. "Can you imagine the famous CN Tower in Toronto? If it was hit by Russian bombs?"
Zelenskyy drew attention to the city of Mariupol, which has faced a horrific attack by Russian forces.
Article content
"Imagine that someone is laying siege to Vancouver. Can you just imagine that for a second and all these people who are left in such a city and this is exactly the situation that our city of Mariupol is suffering right now."
Zelenskyy thanked Canada for being a steadfast ally and for its provision of weapons and the strong sanctions it has placed on Russia, but he said Canada must do more to keep his people safe.
"Please, close the sky. Close the airspace, please stop the bombing. How many more cruise missiles have to fall on our cities until you make this happen?"
Introducing the Ukrainian president, Trudeau said Zelenskyy was fighting for more than just his own people, but for the broader ideas of peace and democracy.
Article content
"In the years I've known you I've always thought of you as a champion for democracy. And now, democracies around the world are lucky to have you as our champion."
Trudeau announced a new group of Russian people would be sanctioned and pledged to continue to support Ukraine, but did not commit to helping push for a no-fly zone. Trudeau said the battle was about more than just Ukraine.
"You're defending the right of Ukrainians to choose their own future. And in doing so, you're defending the values that form the pillars of all free democratic countries: freedom, human rights, justice, truth and international order."
As Zelenskyy spoke on two massive video screens at the front of the commons' chamber, MPs and hundreds of people in the public galleries sat silently. He was speaking from an undisclosed location in Ukraine, dressed in a military green jacket, with only a blank wall and the flag of his country behind him.