Zelenskyy's wife Olena pleads for international help to stop Russia 'murdering' Ukrainian children
This is not a war 'somewhere out there,' this is a war in Europe, Zelenska says in appealing for help
The letter is posted on the official website of the president, but she also uses her Instagram account to spread word of the atrocities inflicted on Ukranians in the war wrought by Vladimir Putin.
This is the full translated text of her message, which was posted in several languages:
"Recently, an overwhelming number of media outlets from around the world have reached out with requests for interviews. This letter serves as my answer to these requests and is my testimony from Ukraine.
What happened just over a week ago was impossible to believe. Our country was peaceful; our cities, towns, and villages were full of life.
Article content
"Despite assurances from Kremlin-backed propaganda outlets, who call this a 'special operation' — it is, in fact, the mass murder of Ukrainian civilians.
Perhaps the most terrifying and devastating of this invasion are the child casualties. Eight-year-old Alice who died on the streets of Okhtyrka while her grandfather tried to protect her. Or Polina from Kyiv, who died in the shelling with her parents. 14-year-old Arseniy was hit in the head by wreckage, and could not be saved because an ambulance could not get to him on time because of intense fires.
When Russia says that it is 'not waging war against civilians,' I call out the names of these murdered children first.
Our women and children now live in bomb shelters and basements. You have most likely all seen these images from Kyiv and Kharkiv metro stations, where people lie on the floors with their children and pets — trapped beneath. These are just consequences of war for some, for Ukrainians it now a horrific reality. In some cities families cannot get out of the bomb shelters for several days in a row because of the indiscriminate and deliberate bombing and shelling of civilian infrastructure."
Article content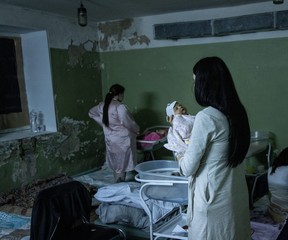 "The first newborn of the war, saw the concrete ceiling of the basement, their first breath was the acrid air of the underground, and they were greeted by a community trapped and terrorized. At this point, there are several dozen children who have never known peace in their lives.
This war is being waged against the civilian population, and not just through shelling.
Some people require intensive care and continuous treatment, which they cannot receive now. How easy is it to inject insulin in the basement? Or to get asthma medication under heavy fire? Not to mention the thousands of cancer patients whose essential access to chemotherapy and radiation treatment have now been indefinitely delayed.
Local communities on social media are full of despair. Many people, including the elderly, severely ill and those with disabilities, have been debilitatingly cut off, ending up far from their families and without any support. War against these innocent people is a double crime.