AGAR: Welcoming Ukrainian refugees can be a win for all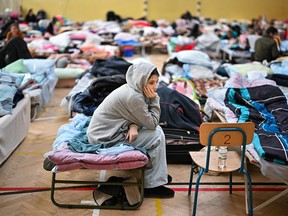 Women and children who have fled war-torn Ukraine rests in a shelter set up in a primary school close to the Ukrainian border on March 21, 2022 in Przemysl Poland. Photo by Jeff J. Mitchell /Getty Images
How much do we have to pay you to take a Ukrainian refugee or two, perhaps a mom and some kids, into your home?
CTV News reports: "The federal government is considering offering economic support to Canadians who are willing to take in Ukrainians who are fleeing the war."
An option in place of paying a monthly payment would be to offer a tax incentive.
It seems like a win all around.
Relying on good will would allow the government to ask people to help without making the gesture solely a money-making opportunity.