AGAR: Will the Academy rescind Will Smith's Oscar?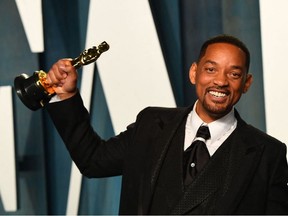 US actor Will Smith holds his award for Best Actor in a Leading Role for "King Richard" as he attends the 2022 Vanity Fair Oscar Party following the 94th Oscars at the The Wallis Annenberg Center for the Performing Arts in Beverly Hills, California on March 27, 2022. Photo by PATRICK T. FALLON /AFP via Getty Images
Will Smith is a man I had a good opinion of up until now.
The Oscars kicked off with such lame comedy that I was pining for an appearance by Chris Rock. Little did I know.
But he wasn't given the chance.
Will Smith at first laughed. His wife did not. So, Smith marched onto the stage like an angry Kanye West during the MTV Video Awards and slapped Rock. He gave him a good one.
Smith then continued to scream profanity at Rock like that angry, out-of-control guy many of us have been unfortunate enough to encounter at a bar. At that point it wasn't about the joke, it wasn't about his wife — it was about Will Smith.