Are Russia's military, financial elite plotting overthrow of the Vlad Hatter?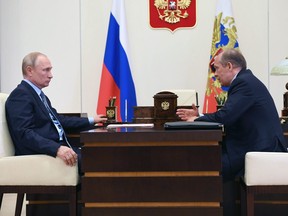 Russian President Vladimir Putin, left, listens to Federal Security Service (FSB) director Alexander Bortnikov during their meeting at the Novo-Ogaryovo residence outside Moscow, Russia, Tuesday, June 16, 2020. Photo by Alexei Nikolsky /Sputnik, Kremlin Pool Photo via AP
The Ukrainian secret service claims top Russian military and financial figures are plotting to overthrow despotic President Vladimir Putin.
Putin is being blamed for obliterating the Russian economy and wiping out billions controlled by the oligarchic elite due to his invasion of Ukraine.
The Daily Mirror reports that the fifth column emerging around Putin wants Alexander Bortnikov, the director of the Federal Security Service and a member of Putin's inner circle, as Mad Vlad's successor.
Ukrainian intelligence sources told the Mirror that Bortnikov and Putin had a falling out after the tiny terror blamed him for "fatal miscalculations" in the military debacle.
"Bortnikov and his department were responsible for analyzing the mood of the population of Ukraine and the capacity of the Ukrainian army," the directorate said.