Assistant principal fired after reading children's book to children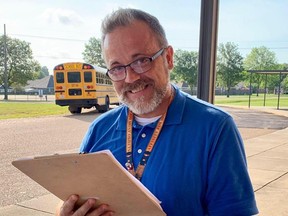 Man in blue shirt holding clipboard with school bus in the background. Photo by Toby Price /Facebook
An assistant principal in Mississippi was fired for reading a book called I Need a New Butt to second-graders.
Toby Price worked at Gary Road Elementary School in Jackson when he was tasked with setting up a virtual call with the second-grade classes and a principal from another school and when she didn't show, he had to improvise.
Price's termination letter from the superintendent of the Hinds County School District stated he showed "a lack of professionalism and impaired judgment" by selecting the cheeky book, one in a series of "Butt" paperbacks from author Dawn McMillan.
"I just think that, you know, this was a pretty harsh reaction," he told the news outlet. "I've been in education for 20 years. I've never had a disciplinary anything put in my file, not even for being late. So, I was blown away."
Price is hoping the decision is overturned and he gets his job back so he can teach others that funny books are needed in education.