Belleville family shattered by Florida crash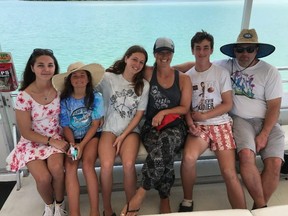 The Kort family, from Belleville, Ont., spent March break in Florida last week. Photo by Kafka, Kort Barristers /Facebook
Flags are flying at half mast at the Belleville court house and at two local Catholic schools as the entire town mourns a family tragedy.
Local lawyer Pieter Kort and his wife Jamie were driving home with their four children from a March break holiday in Florida when they were involved in a vehicular collision early Saturday morning.
On social media, Kort's friend and law partner Edward Kafka posted a message Sunday about the collision, confirming what happened on Facebook.
"Pieter Kort, my friend, partner and brother in the trenches, has experienced a horrific tragedy with his entire family in Jacksonville, Florida yesterday at 6 a.m.," Kafka said.
"We ask that the community pray for the young Souls that have been lost and continue to pray for the recovery of the rest of the Family. The Kort Family have been a pillar in this community and are deserving of our support."