BRAUN: Oscars just bad TV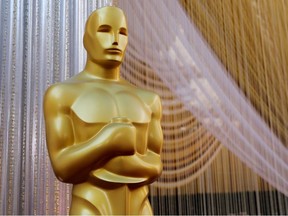 An Oscar statue stands along the red carpet arrivals area in preparation for the 92nd Academy Awards in Los Angeles, Feb. 8, 2020. Photo by Mike Blake /REUTERS / FILES
Why is the Oscar broadcast so boring?
The Academy Awards are no doubt very important to the actors and filmmakers being honoured, but the TV audience for this annual bun toss is dwindling.
The storytelling changed, too. Hollywood's move toward all-blockbusters-all-the-time robbed audiences of other kinds of movies and furthered the alienation of any viewer who isn't a young male aged 18 to 35.
That limits the pool Oscar draws from. Not to say the Oscar lineup for this year is weak, but some of the favoured movies are not all that great.
(The Power of the Dog, for example: overwrought and overrated. And some would say there was a lot of acting going on, to paraphrase entertainment writer Bob Thompson.)