BREAKING VLAD: Meet the morons in Putin's fan club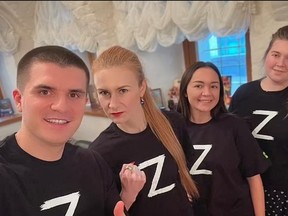 YAY VLAD! WE LOVE YOU VLAD! Former Russian spy-turned politician Maria Butina, second from left, is one Putin fangirl showing her colours. Photo by MARIA BUTINA /INSTAGRAM
Isolated as he is, Vladimir Putin is not without a fan base.
The Russian strongman and aspiring czar is still getting love from politicians, activists and influencers who have taken to wearing T-shirts and buttons with the letter Z to show their support for obliterating Ukraine.
She captioned the photo: "The team in support of our army and president! Let's get to work guys!"
Politician Mikhail Delyagin also wore a Z button in the Duma, where Putin toadies unleashed a slew of draconian new laws.
Delyagin said in a statement: "Now we are at war. Yes we have a special operation in Ukraine, but we have a war with the West."