Canada's military to adopt gender-neutral dress code as it moves to diversify ranks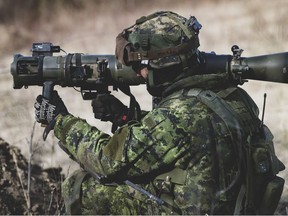 A soldier from the Princess Patricia's Canadian Light Infantry (PPCLI) practices his drills with a Carl-Gustaf M4 (CGM4) during Exercise MAPLE RESOLVE at the 3rd Canadian Division Support Base Garrison Wainwright, Alberta on May 3, 2021. Photo by Sailor First Class Camden Scott /Sailor First Class Camden Scott,
OTTAWA — The Canadian Armed Forces will soon adopt a gender-neutral dress code for service members as military commanders push for more diversity in the ranks.
Men and women in uniform are currently subject to separate dress codes that include the types of clothing they can wear as well as hair styles and other aspects of their appearance.