CHARLEBOIS: Canada's food industry needs to up its couponing game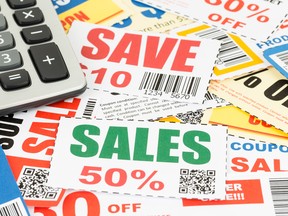 One advantage American consumers have in their savings toolbox that Canadians lack is an incredibly sophisticated couponing industry, writes Dr. Sylvain Charlebois. Photo by iStock /GETTY IMAGES
The food inflation rate in Canada in February was 7.4%, the largest yearly increase since May 2009. With a much higher food inflation rate these days, consumers are desperate to find new ways to save at the grocery store. Both in the United States and Canada, consumers are increasingly using food rescuing apps, going for the "enjoy tonight" deals, trading down on brands and product quality, and reading weekly flyers. But one advantage American consumers have in their savings toolbox that Canadians lack is an incredibly sophisticated couponing industry.
The inflation rate in America in February was 8.6%, but the couponing culture in the United States is far more advanced than that in Canada. Most households in the U.S. will receive numerous coupons every week. They are literally everywhere. Since the start of the pandemic, promotions in Canada, including coupons, are incredibly hard to find.
Coupon clipping companies are driving the American couponing industry. These are companies that clip, collect, and sell coupons to the public. People can actually go online and order as many coupons as desired. Empowering consumers with ways to save is embedded in the American way of life and allows consumers to save big at the grocery store.
In other words, given the options Americans have for saving, a food inflation rate of 8.6% in the United States is perhaps equivalent to 5% in Canada. With the lack of tools to save, Canadians are somehow held hostage by food inflation.
While some Canadians claim to save up to $400 a week using coupons, whether digital or paper-based, doing so requires a great deal of work, almost 30 hours a week to manage. The culture is not the same in Canada and we haven't accepted it as much, but times are changing as food prices are rising at a record pace.