CHARLEBOIS: Statistics Canada's quiet mea culpa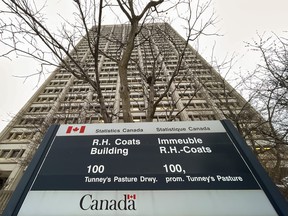 Statistics Canada building at Tunney's Pasture in Ottawa. Photo by ERROL MCGIHON /Postmedia
All eyes are on inflation these days, especially on prices at the grocery store.
We all need to spend on the necessities, but food is the one thing we need every single day, and the food choices we make matter a great deal to our budget.
Statistics Canada's undetailed announcement is posted in a note to readers at the very bottom of its monthly Consumer Price Index report. The placement of this note means few people will have noted it, and this is why most of us missed it. Usually, these things take months, sometimes years for agencies like Statistics Canada to plan, but still.
Over the next few weeks, the database containing the average prices of 52 products sold in Canadian grocery stores will be completely removed by Statistics Canada. The federal agency is essentially turning the page on more than 25 years of data to establish in return an expanded list of products whose prices will be collected every month. This new list will likely be more reflective of the modern-day diet.