'CHICKEN KYIV': Ex-DWTS star Maksim Chmerkovskiy takes heat for fleeing war zone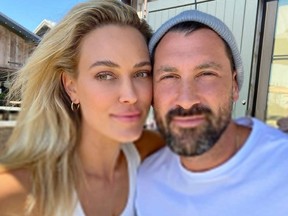 DWTS star Maksim Chmerkovskiy and wife Petra Murgatroyd in a photo posted to her Instagram in September 2021 with a Malibu placeline. Photo by PETRA MURGATROYD /INSTAGRAM
It was none of that women and children first nonsense for Ukrainian-American former Dancing With The Stars hoofer Maksim Chmerkovskiy.
Chmerkovskiy, 42, fled on a westbound train out of Kyiv packed with women and children as Russia unleashed its attack on the smaller neighbour. The dancer had been in the city filming World of Dance.
But not everyone is impressed, particularly after he claimed on Anderson Cooper's CNN program that he had "no choice." He also appeared on ABC's Good Morning America on Monday.
Maksim explained he didn't want to "resent peace" after what he'd witnessed in Ukraine.
He told CNN: "I spent the last couple of days with survivor's remorse, and I'm currently working on an opportunity to go back.