CLEMENT: Supply chain concerns have become even more urgent for Canada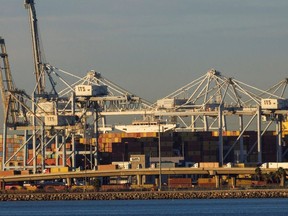 Container trucks , ships and cranes are shown at the Port of Long Beach as supply chain problem continue from Long Beach, California, U.S. November 22, 2021. Photo by MIKE BLAKE /REUTERS
The double-whammy of COVID plus Russia's invasion of Ukraine is creating changes of tectonic proportions on the world's supply chains. Canadian governments and businesses must take notice and shift their thinking. The alternative is continued shortages, massive inflationary pressures and lower standards of living for all.
Even before COVID there were warning signs that it could not be business as usual for global supply chains. The Chinese government was busy assembling a massive dominance over rare earth elements like cobalt and lithium, paving the way for control over electric vehicles and solar panels.
Then Russia invaded Ukraine. This reckless and illegal act forced NATO and Western countries to respond. On the economic front, Russia has very quickly become a pariah state. State sanctions against Russian individuals have been followed by sanctions against Russian oil and gas, financial transactions and access to funds. Further, in a stunning series of moves, over 250 Western companies have either announced their own sanctions, from commercial planes to cats, or else simply shut down commercial operations in Russia.
The implications for global supply chains are also of a magnitude that most people are unaware of. Russia is the producer of 10% of the world's oil and gas, which has roiled the markets and helped to cause eye-watering prices at the pumps. But that's just the start.