Cops release photos of hotel room where Bob Saget died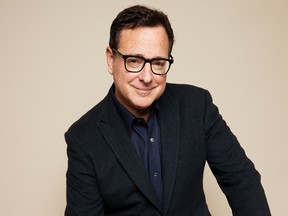 Bob Saget, the actor and comedian best known as the jovial dad on the television sitcom Full House, was found dead in a hotel room in Orlando, authorities said on Sunday. Photo by Getty Images
Police are offering a glimpse into the hotel suite where comedian Bob Saget died in January.
Saget was found dead in his Orlando, Fla., hotel room on Jan. 9 after performing a stand-up show in Jacksonville. His cause of death at age 65 was later confirmed to be resulting from "blunt head trauma." Reports indicated the comedian had suffered fractures to the back of his head and around his eyes.
Elsewhere, the photos depicted a room in which nothing seemed to be amiss. Saget's bed was made and his cellphone, iPad, glasses, AirPods and other personal items were on the nightstand.
In the washroom, his personal toiletry items were seen on the counter, along with a towel in the bathtub and face masks in the waste basket. The room was set to 74 degrees.