Courteney Cox 'doesn't remember' filming many episodes of 'Friends'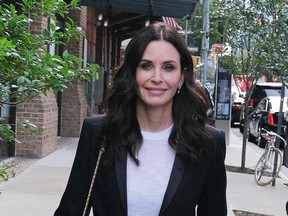 Courteney Cox – Tribeca 2018 – Famous Bang Showbiz
Courteney Cox "doesn't remember" filming many episodes of 'Friends.'
The 57-year-old actress credits this memory loss to the fact that she simply doesn't have a good memory. She admitted that she wishes she'd rewatched more of the show before the recent reunion special.
She told Willie Geist on his 'Sunday Sitdown' podcast: "I'm kind of bummed that we didn't spend more time taking pictures, because I don't have a lot to look back at."
The 'Shining Vale' star added that she believes 'Friends' still "holds up" for today's generation.
She said: "I knew we had something special. The whole cast, we love each other. We went through so much together: marriages, divorces, kids, parents dying. It was just 10 years during a part of your life where there were huge changes.