CRAIG: Canadians on board with producing more oil and gas to squeeze out Putin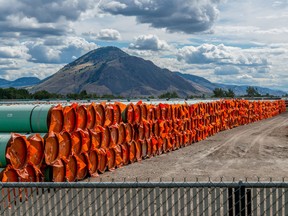 Steel pipe to be used in the oil pipeline construction of the Canadian government's Trans Mountain Expansion Project lies at a stockpile site in Kamloops, B.C., June 18, 2019. Photo by Dennis Owen /REUTERS
New public opinion research – commissioned by SecondStreet.org – shows that 78% of Canadians support the idea of our country developing and exporting more oil and natural gas so the world can reduce its purchases from Russia.
Will our Members of Parliament in Ottawa act on this sentiment? Will provincial governments follow suit?
Canada's abundance of both oil and natural gas resources puts our nation in a good position to produce and export more resources to reduce the world's reliance on Russia. Our oil and gas industry knows where the deposits are, they have the technology to extract them and investors would line up in a heartbeat. The problem of course is many governments have been rejecting most of these projects for years in the name of "saving the environment."
The reality is that the world is expected to use both oil and natural gas for decades to come. If Canada doesn't churn out an extra barrel of oil, then Putin will. So, there is no environmental benefit, all we're doing by keeping our oil and natural gas in the ground is helping Putin's war machine. Considering Russia is a neighbour of Canada's in the Arctic, our nation has a strategic incentive to approve more projects and reduce Russian sales.