EDITORIAL: Canada runs out of arms for Ukraine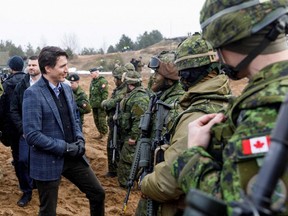 Prime Minister Justin Trudeau talks with soldiers during a visit of the Adazi military base, northeast of Riga, Latvia, on March 8, 2022. Photo by TOMS NORDE /AFP via Getty Images
After running out of weapons to send to Ukraine and underspending its own plan to properly equip the Canadian military by $10 billion over the last four years, the Trudeau government now says it's looking at increasing military spending – again.
Or at least that's what Defence Minister Anita Anand told CBC's Power & Politics after explaining Canada has exhausted its supplies of rocket launchers, anti-tank missiles, grenades, ammunition, sniper rifles, drone cameras and other equipment sent to Ukraine.
This "Strong, Secure, Engaged" plan was billed as correcting military underfunding by the previous Harper Conservative government by increasing annual spending by 70% to $32.7 billion by 2026-27.
The total additional cost of the program running to 2036-37 was estimated at $553 billion, with $164 billion of that earmarked for capital spending on 348 projects, including everything from new warships to jet fighters.
However, a report by Parliamentary Budget Officer Yves Giroux last week found the Liberals have already delayed $10 billion in capital spending budgeted for the program from 2017-18 to 2020-21.