EDITORIAL: Conservatives need to stop bickering and show leadership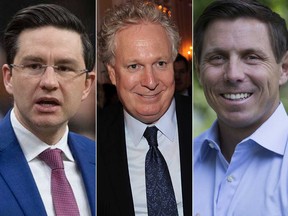 Pierre Poilievre, left, Jean Charest, centre, and Patrick Brown are running for the leadership of the Conservative party. Canadian Press / Postmedia Network / Files
Memo to candidates for the leadership of the Conservative Party of Canada:
Your fellow Conservatives are not your enemy.
Former leader Erin O'Toole learned to his detriment that you can't appeal to social conservatives to win the Tory leadership and then move to the centre to win an election.
Voters aren't stupid. They can sniff out a phony.
That's not to say the campaign shouldn't vigorously debate the issues. The party needs to have an honest debate on what it is and where it's going. Since the defeat of former prime minister Stephen Harper, it's been lurching and leaderless. Until it can present a united front to the electorate, it will never win government. What we've seen from candidates over the past week has been dispiriting and demeaning. The party is tearing itself apart – from the inside.