EDITORIAL: Doubling down on the wrong energy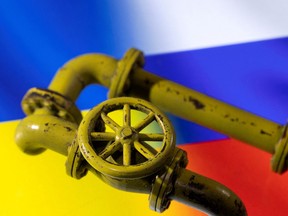 3D printed Natural Gas Pipes are placed on displayed Russia's and Ukraine's flags in this illustration taken on Jan. 31, 2022. Photo by Dado Ruvic/Illustration /REUTERS
Prime Minister Justin Trudeau and many other politicians around the world may be talking about shifting away from fossil fuels to green power because of the energy crisis triggered by Russian President Vladimir Putin's invasion of Ukraine. 
But that's not what Europe, which has been the hardest hit by energy shortages, is doing.
Shortly before Putin's invasion, the European Commission, executive arm of the EU, reclassified both natural gas — a fossil fuel — and nuclear power, as green energy.
The change came due to pressure within the EU by Germany for natural gas and France for nuclear power.
This despite the fact many self-described environmentalists deplore both natural gas and nuclear power, which simply reveals their unrealistic views about energy production.