EDITORIAL: Fairness in women's sports needed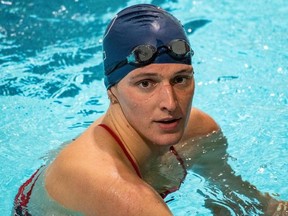 Lia Thomas, a transgender woman, finishes the 200-yard freestyle for the University of Pennsylvania at an Ivy League swim meet against Harvard University in Cambridge, Mass., Jan. 22, 2022. Photo by JOSEPH PREZIOSO /AFP via Getty Images
The controversy surrounding Lia Thomas only grew last week after the transgender swimmer won first place in the 500m NCAA freestyle competition.
It's reignited the debate around fairness in sports when it comes to the participation of transgender athletes.
Jenner is uniquely positioned to comment on the Thomas controversy with authority and also empathy and here's what she had to say:
"I've never been against Lia Thomas, she actually played within the rules. Was it fair? No, it wasn't fair, it's not a fair fight. But she played within the rules," Jenner told Fox News.
"I have been from the beginning out to protect women's sports. I haven't been out to protect transgender athletes, but this is not an easy—it's a tough subject. There's no one answer that fits everything."