EDITORIAL: Freeland's boss is 'economically illiterate'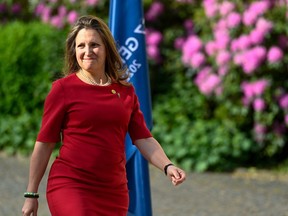 Canada's Finance Minister Chrystia Freeland arrives for a meeting of finance ministers and central bankers from the Group of Seven industrialized nations (G7) on May 19, 2022 at the Petersberg in Koenigswinter near Bonn, western Germany. Photo by INA FASSBENDER /AFP via Getty Images
In unveiling the Trudeau government's latest $8.9 billion plan not to fight inflation but to temporarily help some Canadians survive it, Finance Minister Chrystia Freeland took a not-so-veiled shot at Conservative leadership race frontrunner Pierre Poilievre.
In a speech to the Empire Club in Toronto Thursday, without mentioning him by name, Freeland slammed Poilievre as "economically illiterate" for what she called his irresponsible criticism of the Bank of Canada and its governor, Tiff Macklem, whom Poilievre has said he will fire if he ever becomes prime minister.
The concern is that the economic well-being of Canadians is intrinsically linked to monetary policy, which is about controlling inflation.
As the Bank of Canada explains on its website: "The objective of monetary policy is to preserve the value of money by keeping inflation low and predictable. This allows Canadians to make spending and investment decisions with more confidence, encourages longer-term investment in Canada's economy, and contributes to sustained job creation and greater productivity. This in turn leads to improvements in our standard of living.
"At the heart of Canada's monetary policy framework is the inflation-control target, which is 2%, the midpoint of a 1% to 3% target range. First introduced in 1991, the target is set jointly by the Bank of Canada and the federal government and reviewed every five years. However, the day-to-day conduct of monetary policy is the responsibility of the Bank's Governing Council."