EDITORIAL: Guilbeault blunders on green energy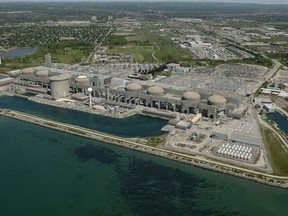 Pickering Nuclear Power Plant. file photo by Sun
Germany provides a textbook example of why Environment Minister Steven Guilbeault's ideological opposition to nuclear power is not in the best interests of Canadian energy security.
Germany's abandonment of nuclear power over the past decade and pursuit of wind and solar power as an alternative forced it to burn more coal for energy – the most carbon intensive fossil fuel – and made it overly dependent on Russian dictator Vladimir Putin for 40% of its natural gas imports.
That was the elimination of coal, which provided 25% of Ontario's electricity generation, by the former Liberal provincial government between 2003 and 2014, replacing it with nuclear power and natural gas – the cleanest burning fossil fuel.
All of which makes Guilbeault's decision to exclude nuclear power and natural gas – where we also have plentiful and secure domestic supplies – from a $5 billion government "green bond" fund intended to encourage investments in green energy technologies, not in Canada's best interests.
Neither exclusion, in a Canadian context, makes any sense.