EDITORIAL: Helping Ukrainians in the ways we can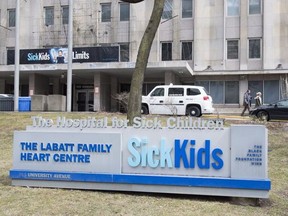 SickKids Hospital in Toronto. Photo by The Canadian Press
There has quite rightly been a lot of attention placed on what the Canadian government is doing to assist Ukraine and the people of Ukraine in the face of Vladimir Putin's awful invasion.
The well-known contributions include placing sanctions against Russian oligarchs, providing humanitarian assistance to Ukrainians and offering military supplies.
Dr. Gupta and the team at SickKids Hospital deserve recognition for their devotion to the health and well-being of these kids.
Those kids aren't the only Ukrainians arriving in Canada though. Far from it.
Over 200 Ukrainians are due to arrive on a flight coming into Edmonton on Monday evening.