EDITORIAL: Hey celebs! Stay out of our energy convo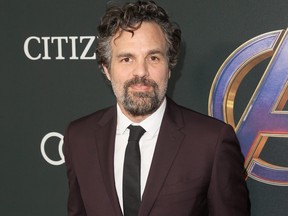 Mark Ruffalo attends the Los Angeles World Premiere of Marvel Studios' "Avengers: Endgame" at the Los Angeles Convention Center on April 23, 2019 in Los Angeles, Calif. Photo by Jesse Grant /Getty Images for Disney
There is now broad consensus that western nations need to move away from Russian energy sources as fast as possible.
One of the ways we can do this is to stop saying no to Canadian oil and gas projects. Instead, we need to say yes to developing our natural resources through every possible avenue.
"Just as with his years-long campaign against the Keystone XL pipeline, Ruffalo shows he doesn't understand that if Canadian oil and gas can't make it to market, it will be replaced with products from Russia, Venezuela or Saudi Arabia — countries with worse environmental and human rights records."
The movie stars accuse Royal Bank of Canada of de facto "violating Indigenous rights and fueling climate chaos."
It's tiresome to watch them once again appropriate First Nations issues in Canada — and they don't even get it right.