EDITORIAL: If you want peace, prepare for war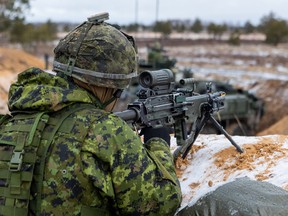 Members of the Canadian army are seen during Crystal Arrow 2022 exercise on March 7, 2022 in Adazi, Latvia. Photo by Paulius Peleckis /Getty Images
It was the Roman general Vegetius who warned that if you want peace, you must prepare for war.
A state, a nation, can be lulled into weakness by keeping its army idle during peacetime. You must be prepared to fight for peace.
Pound for pound, we get more service in tough times from our armed forces than we do from any other part of the public sector.
In the face of a war in Europe, we must re-evaluate and re-equip our armed forces. In 2014, NATO countries agreed to spend 2% of GDP on defence. So far, Canada hasn't met that commitment. Only three countries – the U.S., the U.K. and Greece – have done so.
In dollar amounts, Canada is sixth in its overall contributions to NATO since its inception, at $212 billion. According to figures from the NATO Association, that's behind the U.S. ($6.85 trillion); the UK ($655 billion); Germany ($491 billion); France ($477 billion) and Italy ($233 billion).