EDITORIAL: Joly's comments unfair to military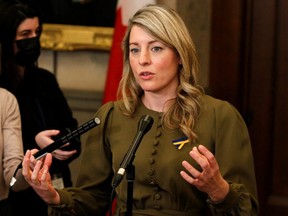 Minister of Foreign Affairs Melanie Joly speaks to the media after Ukraine's President Volodymyr Zelenskyy addressed parliament in Ottawa, Tuesday, March 15, 2022. Photo by Patrick Doyle /REUTERS
Minister of Foreign Affairs Melanie Joly has caused quite a stir with her dismissive comments about Canada's place in the world and our degree of military might.
While appearing on CTV to discuss the war in Ukraine and the contributions Canada is able to make, Joly said:
"I don't know why you would do that, though – Canada has proven itself to be an excellent military partner many times in the last couple of decades," Gen. Lawson added.
Retired Maj.-Gen. David Fraser, who led ground troops in Afghanistan, offered a similar response.
"As a proud Canadian, I think we are far more than what she says we are," Fraser said. "I think the 40,000 Canadians that served in Afghanistan, the 158 soldiers who were killed over there and their families might have something more to say than what our minister is saying."