EDITORIAL: Lack of pipelines costing us billions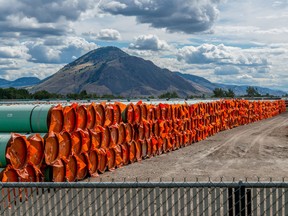 Steel pipe to be used in the oil pipeline construction of the Canadian government's Trans Mountain Expansion Project lies at a stockpile site in Kamloops, B.C., June 18, 2019. Photo by Dennis Owen /REUTERS
Suggesting his brain is an irony-free zone, federal Environment Minister Steven Guilbeault told Bloomberg News last week that Canada can't replace Russian oil and natural gas supplies to Europe because, "our export capacity is pretty much maxed out."
Of course, the reason it's maxed out is Canada's lack of oil and natural gas pipelines, the same ones Guilbeault campaigned against in his previous life as a Greenpeace activist.
As the world's fifth largest producers and fourth largest exporters of both natural gas and oil, Canada could have helped to wean Europe off its dependency on Russian oil and gas.
If, that is, we had sensible energy policies.
But we don't. Instead, we are constantly cutting our own economic throats on this issue, led by Prime Minister Justin Trudeau and the Liberals.