EDITORIAL: Liberal carbon plan is magical thinking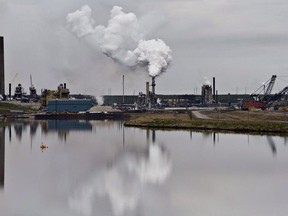 The Syncrude oil sands extraction facility is reflected in a tailings pond near the city of Fort McMurray, Alberta on Sunday June 1, 2014. Photo by Jason Franson /THE CANADIAN PRESS
It's hard to take seriously the Trudeau government's latest climate change plan it unveiled Tuesday — accompanied by a $9.1 billion price tag — because it doesn't take itself seriously.
What the document presented by Environment Minister Steven Guilbeault says is that if Canada wants to come close to achieving Prime Minister Justin Trudeau's pledge to reduce Canada's greenhouse gas emissions by at least 40% below 2005 levels by 2030 — the following things have to happen.
The idea all of this can be achieved by 2030, relying largely on not ready for prime time renewable forms of energy such as wind, solar and biomass, is absurd.
Even using reliable, conventional forms of energy — such as non-emitting hydro and nuclear power and low-emitting natural gas — the latter two of which Guilbeault ideologically opposes going back to his days as a Greenpeace activist — this plan would cause massive disruption to the Canadian economy.
Finally, even if it were to magically happen, the plan predicts Canada's emissions will fall by 36.4% compared to 2005 levels, short of Trudeau's minimum goal of a 40% cut and maximum goal of a 45% reduction by 2030.