EDITORIAL: Military spending must be sustainable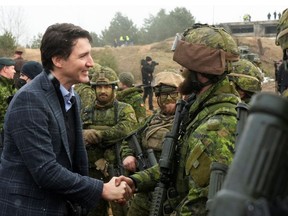 Canadian Prime Minister Justin Trudeau visits members of the Canadian troops, following the Russian invasion of Ukraine, in the Adazi military base, Latvia, March 8, 2022. Photo by INTS KALNINS /REUTERS
In the wake of Russian President Vladimir Putin's unprovoked invasion of Ukraine, the Trudeau Liberals have suddenly rediscovered the importance of properly funding the Canadian military.
"It is important for our military to be better equipped," Foreign Affairs Minister Melanie Joly said Friday.
The reason for skepticism is that Prime Minister Justin Trudeau and his government seem to have forgotten that in 2017 they announced what they said was a 20-year plan to properly fund the Canadian military through a new defence policy called "Strong, Secure, Engaged."
Then defence minister Harjit Sajjan said after years of underfunding by the previous Harper Conservative government, including insufficient allocations for jet fighters and naval warships, the Liberals would increase the military's annual budget by more than 70% over a decade — from $18.9 billion in 2016-17 to $32.7 billion dollars in 2026-27.
By the time the total program was rolled out in 2036-37, military spending would increase by $553 billion, $164 billion of that earmarked for capital spending to re-equip the military.