EDITORIAL: No-fly zone risks a global war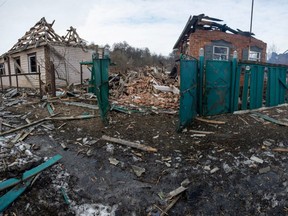 A view shows residential buildings destroyed by an air strike, as Russia's attack on Ukraine continues, in the town of Okhtyrka, in the Sumy region, Ukraine, in this handout released Tuesday, March 15, 2022. Photo by Press service of the 93rd Separate Mechanized Brigade of the Ukrainian Ground Forces /REUTERS
Ukrainian President Volodymyr Zelenskyy directly appealed to Parliament on Tuesday for the one thing Canada is not prepared to support – NATO enforcement of a no-fly zone over Ukraine.
"Please close the sky, close the airspace, please stop the bombing, how many more cruise missiles have to fall on our cities until you make this happen?" Zelenskyy pleaded from his bunker in Ukraine in a virtual speech to a joint session of the House of Commons and Senate.
In Canada, none of the opposition parties support NATO enforcement of a no-fly zone over Ukraine, although interim Conservative leader Candice Bergen said in response to Zelenskyy's speech, "we must do more together with our allies to secure Ukraine's airspace" at least over humanitarian corridors allowing civilians to flee its besieged cities.
With Russian forces advancing on Kyiv, Zelenskyy praised Trudeau and Canada for imposing economic sanctions against Russia, arming the Ukrainian military and delivering humanitarian aid.
But he said none of those things will stop Putin's war on Ukraine.