EDITORIAL: Respecting mask choices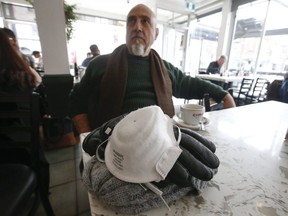 The Province of Ontario has announced that mask mandates will be over on March 21 with some exceptions to what they call high-risk setting like hospitals, transit, long-term care, jails. (Pictured) Salvatore finishes up his coffee at Cafe Diplomatico on College St. And is happy the mask mandate has ended on Wednesday March 9, 2022. Photo by Jack Boland /Jack Boland/Toronto Sun
The vast majority of Canadians will soon be permitted to go about their lives without having to wear masks.
Alberta dropped their mandate on March 1, British Columbia did it on March 10 and Ontario is set to do it on March 21 and Quebec is expected to lift its soon.
There has been a lot of talk about making sure people who continue to wear masks aren't negatively judged or even harassed. We agree. There's no need to bully people. Let them make their own choices.
That said, there's also a possibility that people who stop wearing masks will be harassed for their choice. This would also be wrong.
While some businesses may be inclined to introduce their own mask rules, it seems wiser to instead let people figure it out for themselves and offer judgment-free zones.